Main content starts here, tab to start navigating
About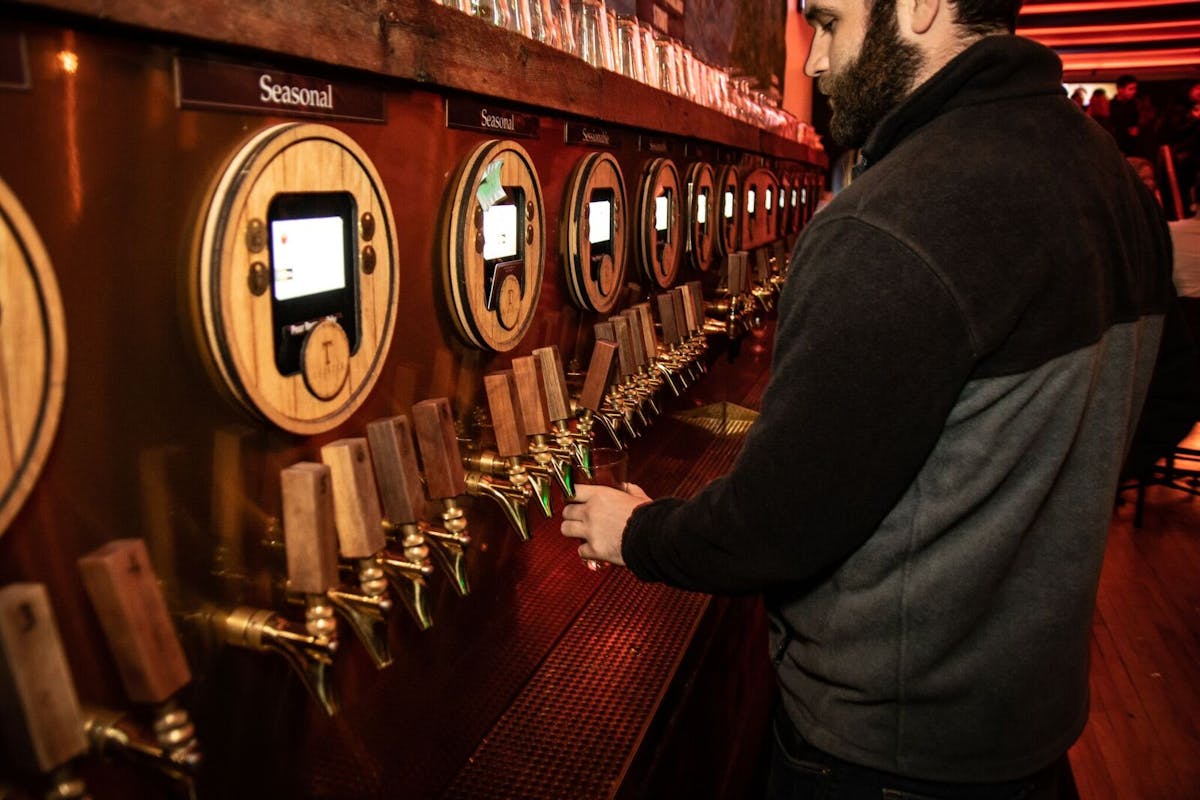 The story of Tapster began in England in approximately 1617, when the nickname tapster first referred to a bartender serving alcoholic drinks (mostly beer) from a tap. This nickname lived on in remote English villages for about 200 years before slowly dying out in the 19thand 20th centuries. And just as the long waits for bartenders reached a feverish pitch at the beginning of the 21st century, tapster was reborn in Chicago. Unlike in Old England, however, the new tapster has become each and every one of us (each of us over the age of 21, of course).
Roman Maliszewski and Sean Slevin are the innovators behind the first self-serve tasting bar in Chicago. Both are native Chicagoans and both do not like the idea of waiting in dim-lit bars for wanna-be-cool-bartenders to pour a beer, wine, or cocktail, let alone sodas and coffees. More importantly, Roman and Sean saw a need for changing the way Americans imbibe our finest craft beers. With the explosion of craft drinks on the American social scene, the need for tasting and sampling has become apparent and necessary. Why do some restaurant/bars offer 150 beers and 25 cocktails, forcing guests to drink an entire pint before knowing if he or she likes the drink first? Freedom of choice is the American way, and we at Tapster have embraced this basic human right.
Do self-serve drink taps aim to replace the modern-day bartender, those men, and women who work tirelessly to fill pints of beer and make craft cocktails? Never. We would never try to replace such a respected and age-old profession, whose craftsmen and craftswoman have created some of the best drinks the world has ever seen. We are, however, creating a new experience and a new market in the restaurant/bar industry. Whereas bartenders of past days have relied on the bar-top to separate them from their patrons, we at Tapster have broken down this barrier and brought our knowledgeable staff in front of the taps and next to our patrons. At Tapster you will always find a friendly bartender standing next to our taps, ready to give you all the feedback and understanding that bartenders behind a bar-top have done for centuries. And what about craft cocktails? Tapster has an amazing team of mixologists who concept and create craft cocktails (both timeless and unique options) for our patrons. The difference between our cocktails and those made by traditional bartenders is that our team batches large quantities of these cocktails and then puts them in kegs. Make no mistake; our cocktails are made with as much love and intricacy as those made from a bartender serving only one at a time.
Roman and Sean did not want non-alcoholic-drinkers to feel left out of this new self-pouring reality, so they have included kombucha (a fermented tea with probiotics and other healthy attributes), craft sodas made with love from small-batch brewers, locally owned cold-brew coffee, and freshly made juice. Every aspect of Tapster is made to be inclusive, fun, and easy-to-use.
Our mission embodies three distinct aspects: Education, Empowerment, and Environment. When you enter Tapster we promise to always teach you something new, whether this includes pouring a proper pint of beer or what differentiates SLO from Calistoga wines. Our self-pour technology empowers our patrons the ability to choose drinks at their leisure, and more importantly, it allows everyone the opportunity to sample and try drinks before committing to an entire pint. Through knowledge and education, everyone is empowered to teach others as well. Last but not least, we at Tapster are very conscious of the world around us, and we are committed to not producing large amounts of garbage. We do not serve any bottle or cans at Tapster. We aim to produce an incredibly small carbon footprint, and with this in mind, we will help keep our planet alive and well. Every aspect of Tapster will trace back to these three pillars: Education, Empowerment, and Environment. We promise to do our best to create a fun, healthy, and interesting environment for our guests, and we look forward to meeting new people every day.